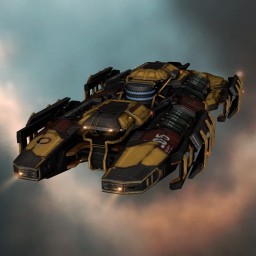 Estimated Prices
These are only estimated market prices and can vary from ingame prices depending on the shiptype and market you are looking at. Especially capital ships that are not traded at the Jita market can be miles off.
Doctrines using this fitting
[Skiff, Skiff*]
Mining Laser Upgrade II
Mining Laser Upgrade II
Mining Laser Upgrade II

Medium Shield Booster II
Adaptive Invulnerability Field II
Cap Recharger II
Cap Recharger II
Medium Shield Extender II

Strip Miner I
Strip Miner I

Medium Ancillary Current Router II
Medium Processor Overclocking Unit I

Hobgoblin II x5
Mining Drone II x5
Salvage Drone I x5
Acolyte II x5

The exhumer is the second generation of mining vessels created by ORE. Exhumers, like their mining barge cousins, were each created to excel at a specific function, the Skiff's being durability and self-defense. Advanced shielding and drone control systems make the Skiff the toughest mining ship in the cluster.
Exhumers are equipped with electronic subsystems specifically designed to accommodate Strip Mining and Ice Harvesting modules.